At our medical facility, a better life awaits you through individualized treatment plans that include the latest technological advancements in medicine. These include the safest, state-of-the-art and most effective treatment options that are proven most effective in acute and chronic pain conditions and are supported by clinical research.
What is Oxygen-Ozone Therapy?
Oxygen-ozone therapy was first introduced in Europe and Asia in the 1980's. Current research on oxygen-ozone therapy shows that 65% to 80% of patients have reduced herniated disc symptoms after the treatment. Moreover, patients experience few complications with oxygen-ozone therapy. Many spine researchers have taken a closer look at the healing potential of oxygen-ozone therapy and have discovered that it boasts the same, if not better results than established treatments such as steroidal injections and surgical discectomy procedures.
Ozone is nature's way of detoxifying and purifying the environment. When oxygen gas (O2) is exposed to UV radiation or electricity, the jolt of energy causes it to form ozone (O3). Carrying an extra oxygen atom, ozone gas is much more reactive than the regular oxygen we breathe in air. It breaks down rapidly, which is why you can't buy it bottled or have it shipped to you. When scientists learned how to generate ozone in the laboratory in the 1840s, they recognized its antimicrobial properties. It was first used to disinfect hospitals in 1856, and it was employed as a germicide before antibiotics. Because of its well-known antibacterial and antifungal effects, alternative practitioners use ozone gas that they synthesize on site to treat a range of conditions from autoimmune disease to chronic fatigue syndrome.
A study published in 2014 examined the long-term effectiveness of oxygen-ozone therapy by reaching out to patients ten years after their initial therapy. The authors concluded that oxygen-ozone injections are safe and effective in approximately 75% of patients who have herniated discs with a reduction in herniation volume, the average reduction was 56%, and the benefit lasted through ten years. They concluded that the therapy is worth considering before surgery.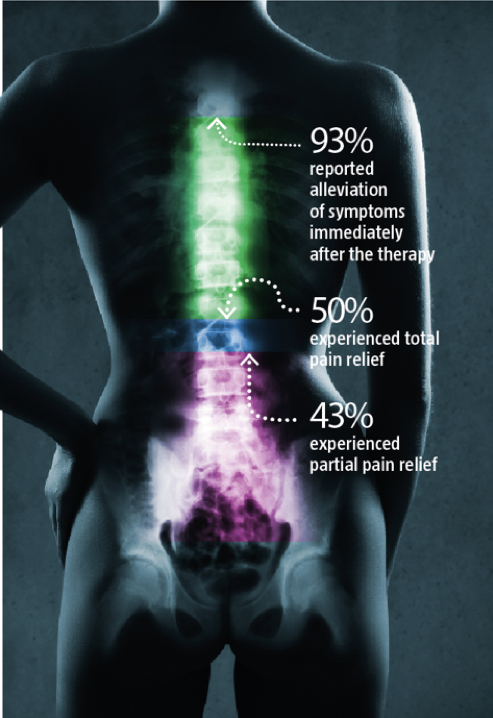 How does Oxygen-Ozone Treatment work?
Oxygen-ozone gas is given via an injection into the affected disc. A needle delivers the treatment directly into the disc, and it reduces the volume within the disc. This is due to the oxidation of proteoglycans, which are proteins found within the gel-like center of the disc (nucleus pulposus). When your disc volume is reduced, the pressure on the surrounding nerves is also reduced. This, in turn, lowers the amount of pain that you might experience. Besides a shorter recovery time and lower complication rate than surgery benefits of oxygen-ozone injections include: it is a minimally-invasive procedure, it can be performed in an outpatient facility or doctor's office, it takes little time to administer and the associated costs are far less than surgery.
The most common types of back pain that can be treated with ozone therapy are:
Upper, mid, and lower back pain

Lumbar pain

Sciatica pain

Herniated discs

Degenerative disc disease

Back spasms
Oxygen-ozone treatment is not suitable for everyone. If you have paralysis of the legs, an uncontrolled bladder, calcified discs, or spinal cord compression, then this treatment is not ideal. It is best to discuss other options with to determine what might be suitable to treat your condition.
Ozone therapy vs. steroid injections
Short of surgery, steroid injections are the most invasive of all lumbar spinal stenosis symptom treatment options. Medical ozone is being looked at and it may one day rival steroid injections for long term relief. According to a study published in the International Journal of Ozone Therapy, the pain-fighting chemistry of ozone may be almost the same as a steroid injection. At the end of this study it was noted that 74% of the patients who received ozone therapy to alleviate spinal stenosis symptoms received excellent and good results within a year with no significant side effects.
Ozone therapy vs. surgery
Anytime you break the skin barrier open there is a risk, whether a risk of infection or injury, or a risk of provoking an immune system response. Considering how extensively oxygen-ozone gas injections have been used in Europe with 70 to 80 percent of patients benefiting from the therapy, there are very few reported adverse events, which suggests a very low-risk procedure.
For example, a 2017 study on the intradiscal injection of ozone reported that the risk of complications is 0.1 percent, which is the equivalent to 1 in 1,000 patients. One researcher published a review of the therapy for spinal treatment that describes the importance of precisely calculated ozone concentration in the syringe. If the concentration is too high it can become painful and may even cause dizziness or fainting. Ozone is toxic to lung tissue and when inhaled, it can cause chest pain, coughing, shortness of breath and lung irritation. No cases have been reported in relation to medical therapy with these symptoms where ozone has been injected at the site of pain and the lungs were never exposed.
Let us help you to get your life back. A good treatment plan can help to relieve your discomfort and return you to a pain-free and active lifestyle. Cell Bionics Institute offers a comprehensive spine functional restoration program to help patients with all of their spine care needs. With every treatment, we work to help with your current health situation, while also keeping your future health in consideration. The Biodisc® procedure is a much less invasive option, with a much more shortened recovery period than a more invasive procedure, such as spinal fusion surgery. See if you might be a candidate for Biodisc® today. Request a consultation with a spine care expert to discuss a treatment customized treatment plan to help with your back pain.
References
Andreula CF, Simonetti L, De Santis F, Agati R, Ricci R, Leonardi M. Minimally invasive oxygen-ozone therapy for lumbar disk herniation. AJNR Am J Neuroradiol. 2003 May;24(5):996-1000. PubMed PMID: 12748111
Bocci V, Borrelli E, Zanardi I, Travagli V. The usefulness of ozone treatment in spinal pain. Drug Des Devel Ther. 2015;9:2677–2685. Published 2015 May 15. doi:10.2147/DDDT.S74518
Magalhães FN, Soares SC, Torres JM, et al. Effects of ozone applied by spinal endoscopy in patients with chronic pain related to failed back surgery syndrome: a pilot study. Neuropsychiatr Dis Treat. 2013;9:1759–1766. doi:10.2147/NDT.S48663
Buric J, Rigobello L, Hooper D. Five and ten year follow-up on intradiscal ozone injection for disc herniation. Int J Spine Surg. 2014;8. doi: 10.14444/1017. eCollection 2014. PubMed PMID: 25694935; PubMed Central PMCID: PMC4325503.
Baeza-Noci, Jose. (2007). Spinal ozone therapy in lumbar spinal stenosis. International Journal of Ozone Therapy. 6. 17-24.
Joel, Jerry & Panchal, Jay & Anand Kumar, GS & Basak, Santanu & Das, Gautam & Dutta, Debjyoti. (2015). Efficacy of transforaminal epidural steroid injection versus intraforaminal or periforaminal ozone for low back pain with radiculopathy. Indian Journal of Pain. 29. 10.4103/0970-5333.155172.
Heal Your Body and Alleviate Pain Without Surgery!